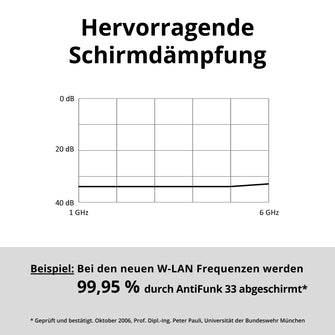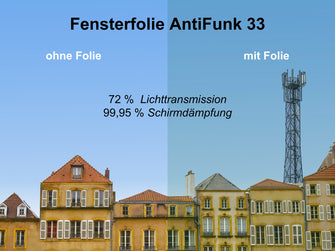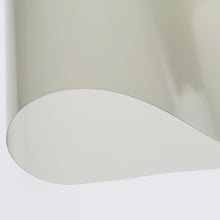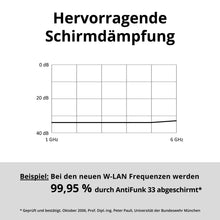 Radio shielding window film AntiFunk 33 - mobile phone radiation, electrosmog, radiation protection
The AntiFunk 33 window film has excellent shielding attenuation values ​​with maximum light transmission.
Widths 91 cm, 122 cm, 152 cm or 183 cm

✅ RF attenuation against electronic eavesdropping, data theft/hacking
✅ Protection against electrosmog

Attention / order quantity: Is cut off customer-specifically, quantity = running meter (please...
91 cm

122 cm

152 cm

183 cm
Shielding electromagnetic radiation with maximum light transmission!
AntiSpyShop radio-blocking window film AntiFunk 33 is a self-adhesive window film for shielding high-frequency electromagnetic radiation (HF) for interior glass surfaces without heat insulation.
With 72% light transmission and 33 dB shielding attenuation , AntiFunk 33 is one of the front runners in the field of radio shielding window films!
Top shielding
AntiFunk 33 has excellent shielding effectiveness.
99.95% of the radiation is shielded by AntiFunk 33 , for example at WLAN frequencies.

Tested shielding attenuation!
October 2006, University of the Federal Armed Forces Munich, Prof. Dipl.-Ing. Peter Pauli, Professor of High Frequency and Microwave Technology; radar technology.
processing
To install the window film you need an adhesive squeegee , an installation concentrate and an edge seal . Assembly instructions are included. Important: So that excess water can evaporate, the edge sealing may only be carried out 8 weeks after the window film has been installed!
Technical specifications
Width: 91 cm, 122 cm, 152 cm or 183 cm
Length: sold by the metre
Shielding attenuation: 33 – 36 dB @ 450 MHz – 5.8 GHz (ASTM D-4935 IEEE 299-1997)
Light transmission (light transmittance): 72% (on 4 mm clear glass)
Light color (coloring of daylight): A fine nuance of green
Installation: Installation is the same as for a normal window film; assembly instructions are included
Removable without residue
Material thickness: 50 µm
Please pay attention to:
Exclusively for indoor installation on glass surfaces without thermal insulation! Background: If solar radiation penetrates through the metallization of heat-insulating glazing and then hits the shielding window film, multiple reflections can occur. The window pane heats up unnecessarily and the increase in volume in the edge seal can lead to leaks or even cracks. Therefore, you should definitely determine the type of glass in advance!
Versand
: Bestellen Sie
heute
und erhalten Sie Ihre Sendung am nächsten Werktag, spätestens in 3 Werktagen.
Nähere Informationen zum Versand finden Sie unter
Versand und Zahlungsbedingungen
Rückgabe
: Artikel können binnen 14 Tagen ohne Angabe von Gründen zurückgegeben werden. Nähere Informationen finden Sie unter
Rückgabe
.